Bodhi's Light Luxury Scented Coconut Wax candles
Illuminating Lives One Candle at Time
Welcome to Bodhi's Light. We are Justin, Dia, and Bodhi. Thank you for supporting our family owned and operated coconut wax candle company since 2020.
Our vision is to uplift your mood with cruelty-free, hand-poured, scented coconut wax, candles.
Each candle is poured with love made with three simple ingredients: coconut wax, a cotton wick, and essential oils.
We ensure that every candle is phthalate free, body-safe, and all natural which will surely help with your good vibes.
To learn more about our mission, read Bodhi's Light blog post.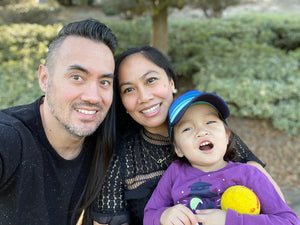 Book a Candle Workshop for your next event! -- Book Today!
Featured collection ~ Beach Baby
Leonine Lemongrass

Regular price

from $15.00

Coastal Sage

Regular price

from $15.00

Lush Lavender

Regular price

from $15.00
Gratitude, Love, and Light!
Bodhi's love and light got me through the toughest of times, now I'd love for you to share in his glow!

Justin ~ Bodhi's dada
One night, while Bodhi and I snuggled next to Dada, I was overwhelmed with a sense of gratitude that Justin was still here with us. I needed a way to thank everyone that played a part in saving his life and making sure Bodhi would grow up with his father. Thus Bodhi's Light was born!

Dia ~ Bodhi's momma
I'm so glad my dada is still here so we can play, laugh, and hug! Thank you for saving my dada and helping him heal. I love you!

Master Bodhi Coltrane Vechayiem